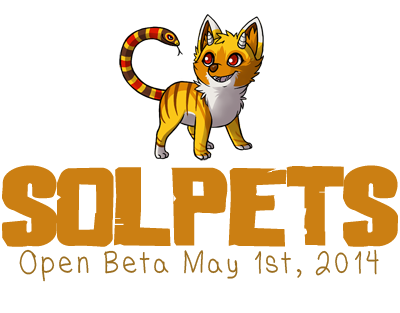 Solpets is a virtual pet site community that strives to offer a friendly and inviting atmosphere. The site is free to play and offers a variety of unique styled pets for you to raise and breed. With different worlds to explore and activities to complete, where will your adventure take you?
Solpets has been around since July 4th, 2011 and has been growing ever since. Welcome back new users. Welcome back old users. Welcome everyone. Solpets IS a new beginning.
We would like you to note the site is currently in beta.
Google+
Log In

Already have a account? Log in and have some fun!
Sign Up for FREE!

Just for signing up you get 10,000 sPoints and 50 sCoins.
Welcome our newest member jjas16!
cutielou22
solContests
Mar 19, 2015 01:03

We have added new solContests to our games! To get there go to "Games", "Contests", "Active Contests".

There are several different types of contests that can be held:

Poetry/Short Story Contest: This can be a poem or short story (unless stated otherwise in this contest's additional rules).

Digital Art Contest: This type of contest allows users who own a Digital Art Program to design possible new art for the site.

Sketch Art Contest: This type of contest allows a user to submit hand drawn sketches. The sketches submitted may or may not be digitally altered for use on the site. Sketch Art contest are good for Solopians who do not operate digital art programs well or prefer to do hand drawn work.

Upon submission all art and writings becomes site property and may only be returned by the consensus of the site's lead administrators and owners.

All content submitted must meet with our site rules as well.

Our first contests have been added. Good luck.
cutielou22
Happy Valentine's Day!
Feb 14, 2015 12:02



Some new Valentine items have been added to the Holiday shop.



New LOVE avatar now available to all Solopians!




cutielou22
Are you ready to Adopt?
Feb 02, 2015 10:02


The Solopian Adoption Center is now open for business! You can adopt a new pet, transfer a pet to another user, or drop off your pet to find a new owner.

You can get there by going to our explore map in Shine City and go left. Don\'t forget if you want quick access to this area to add it to your \"My Nav\".

Our new Pet Leaderboard can be found on our Stats page (the link is in our footer).

Pet biography have been added to the revamped Pet Profiles. Make your pet come to life! To do this go to \"My Pets\" > Choose A Pet > And Click \"[Update Pet Profile]\" under your pet\'s picture.

Want to send money to a user? Well, if you have a Solopian Bank account, you can transfer sPoints for free!

Happy Groundhog Day Everyone!