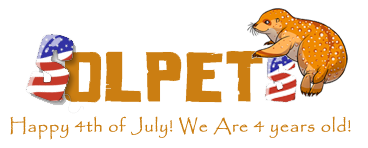 Solpets is a virtual pet site community that strives to offer a friendly and inviting atmosphere. The site is free to play and offers a variety of unique styled pets for you to raise and breed. With different worlds to explore and activities to complete, where will your adventure take you?
Solpets has been around since July 4th, 2011 and has been growing ever since. Welcome back new users. Welcome back old users. Welcome everyone. Solpets IS a new beginning.
We would like you to note the site is currently in beta.
Log In

Already have a account? Log in and have some fun!
Sign Up for FREE!

Just for signing up you get 10,000 sPoints and 50 sCoins.
Welcome our newest member gingerbaby325!
The holiday season is here! Solopians are now celebrating Independence Day (July 4th) everywhere!
We will be celebrating this holiday July 1st to July 31st.