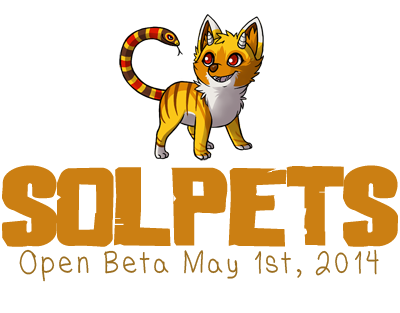 Solpets is a virtual pet site community that strives to offer a friendly and inviting atmosphere. The site is free to play and offers a variety of unique styled pets for you to raise and breed. With different worlds to explore and activities to complete, where will your adventure take you?
Solpets has been around since July 4th, 2011 and has been growing ever since. Welcome back new users. Welcome back old users. Welcome everyone. Solpets IS a new beginning.
We would like you to note the site is currently in beta.
Log In

Already have a account? Log in and have some fun!
Sign Up for FREE!

Just for signing up you get 10,000 sPoints and 50 sCoins.
Welcome our newest member jayon13!
The holiday season is here! Solopians are now celebrating Thanksgiving Day (November 27th) everywhere!
We will be celebrating this holiday November 1st to November 30th.
cutielou22
Introducing The solCloset!
Nov 01, 2014 05:11

The solCloset is made just for your collectables, snugglys, and snowglobes. Show off the ones you have and the ones your waiting to get to complete your collection.

There is one catch about the solCloset: You can't remove any of the items from it (ever). Just warning you.

You can find the link to your solCloset under "Personal". You can view other members closets by going to there profile. (It's like a extra gallery.)

cutielou22
solTransfer!
Oct 25, 2014 04:10
Have you been with us since the beginning? If you have, we are giving you the chance to get your sPoints, sCoins, Mystery Pot points and your original sign-up date. Doing this will also gain you Beta Tester rank and a "Original Solopian" title.

Just click on "solTransfer" under the Explore tab. You just need to remember either your email or username associated with your old account. There is a catch, you have to remember your old password . . . well not really or you can just enter your birthday and gender.
cutielou22
Trick or Treat
Oct 12, 2014 04:10

It's that time of year when the leaves fall and the jack-o-lanterns come out!









Visit users profile to get a treat or trick them!